« Obsédé par la lumière, le mouvement et l'instant fugace,
Jean-Christophe Yacono (yako) maîtrise l'effet flou avec élégance ».
C'est dans le milieu de la danse et du spectacle vivant qu'il arrive à capturer ces prises de vue mystiques en noir et blanc. Cette année il a ainsi produit des superbes portraits chorégraphiques qui trouvent un aboutissement dans le court-métrage FEAR IN MOTION.
Lense.fr - Portrait de Lenser : Yako

//
"Obsessed with light, movement and fleeting moment, Jean-Christophe Yacono (yako) masters the blur effect with elegance". It is in the world of dance and live performance that he manages to capture these mystical black and white shots. This year he has produced superb choreographic portraits which find an outcome in the short film FEAR IN MOTION.

Cette année je me concentre
sur le mouvement en danse,
sur les « portraits chorégraphiques ».
# In Motion Veritas

Je les ai capté.e.s, la nuit, dans une ruelle sombre,
ou un appartement vide et le jour dans une salle
de répèt, un atelier d'artiste, au Cirque Éloize,
dans le grand studio ou à la Sala Rossa.
The « Fear (and greed)
in Motion » cinégraphe

un essai photographique de
Jean-Christophe Yacono⁠⁠

Un spectacle de
DLD-Daniel Léveillé Danse

Direction artistique, concept et interprétation Frédérick Gravel
Dramaturgie et textes Étienne Lepage
Assistance artistique et direction des répétitions Jamie Wright
Direction musicale Philippe Brault
Création musicale : Nicolas Basque + Philippe Brault + Frédérick Gravel + José Major - Lumières : Alexandre Pilon-Guay - Musiciens : Nicolas Basque + Philippe Brault (3 & 4 juin) + Jean-Luc Huet (1 juin) + José Major - Sonorisateur : Louis Carpentier - Stylisme : Dave St-Pierre - Œil extérieur : Katya Montaignac - Coordination technique et chargée de production Vanessa Beaupré

« Fasciné par ces gestes improbables à l'autre bout du capteur, courbé et répandu sur le tapis de la grande salle de l'Usine C, hypnotisé par la chorégraphie inattendue et singulière que jette ce corps à la lumière, j'ai capté Frédérick Gravel dans une série de 2541 images en mouvement qui sont animées et assemblées en un court métrage.⁠⁠
Le texte d'Étienne Lepage clame la peur et l'agressivité. La performance musicale de Philippe Brault m'enflamme. Je m'autorise à bouger à ma façon, brutale et maladroite, pendant que résonne une rage de crier et d'aimer.⁠⁠ Ses gestes et sa chorégraphie deviennent miens.
Faire. Bouger. Faire. Accueillir. Faire. Capter. La peur et l'ambition disparaissent. Tout devient fluide, langoureux, poétique.⁠⁠ Clic(s). »⁠⁠
yako
Between Two Frames

Nouvelle série photographique.
J'ai commencé l'extraction de la série Between Two Frames en regardant, image par image, NOIRCEUR, durant ma convalescence. Ce court métrage, assemblé de quelque 2487 « arrêts sur photographies », constitue le départ d'une nouvelle énergie d'images en mouvement, contre l'enfermement. Entre deux photos, se trouvent enfermées des images-intervalles qui se mélangent, se déchirent ou se contorsionnent. Depuis cette découverte, j'ai commencé à capter plus de séquences, à tenter de comprendre comment le code insufflé dans mes transitions maisons, "morphing" et "optical flow", réagit aux changements de forme et de lumière. Plus il y d'intervalles et plus le mélange est subtil. Cette préparation ajoute un nouveau type de flou dans ma pratique, le cinquième, qui s'ajoute aux flous générés par l'optique « préparée ou déréglée », la vitesse d'exposition, le mouvement du capteur placé dans ma main ou de celui du sujet. J'aime.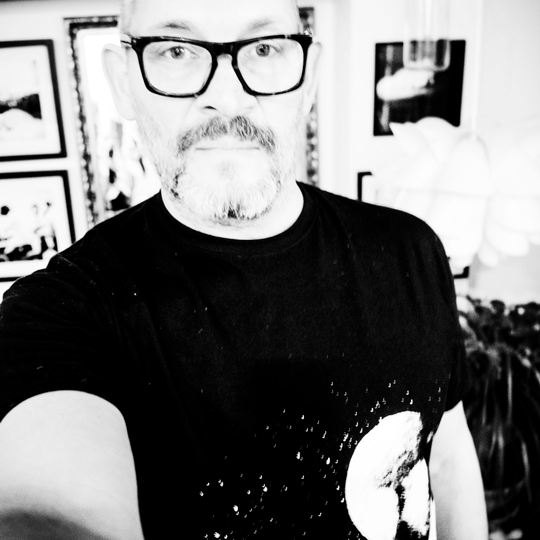 Photographe et réalisateur multimédia canadien d'origine française, mon travail s'exprime et s'imprime principalement dans Montréal (Québec).
Ma pratique s'appuie sur le mouvement, à la volée ou chorégraphié, en « point and shoot », lors de marches, de x d'expériences, sur ses formes en photo et en vidéo et aux trois différents flous qu'il imprime sur un capteur.
//
French born Canadian photographer and multimedia director,
my work is expressed and printed mainly in Montreal (Quebec).
My practice relies mainly on movement, whether on the fly or choreographed,
during shows, experiences, rehearsals or transportation, on its forms in photo
and video and the three different blurs it leaves on a sensor.
Merci, Thank you, Grazie, GRacias, Obrigado, Tack,
Tak, Takk,
Spasibo, Arigato,
Xie Xie, Do jeh, Danke, Choukran, pis toute!